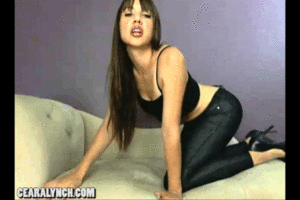 - A Ceara Lynch Classic! - Seducing you into submission is effortless when I tease you with my toned legs and ass; especially in skin tight leggings. Go ahead, stroke yourself into weakness. You are my property and I know just how to get into that mind of yours and make you my own. Watch as i tower above you, peeling my leggings off and exposing my glorious ass. You don't stand a chance.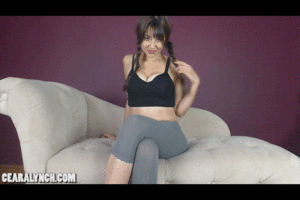 Hey degenerate, ready for a challenge? I know you are. Stroking up and down can get pretty boring after a while, especially for me, so I expect my bitches to go to greater lengths to amuse me. I'll make you fuck your own dick hole, cum on your face, use that cum to lube a dildo, fuck yourself in the ass, and then cum again! Think you have what it takes? Let's find out!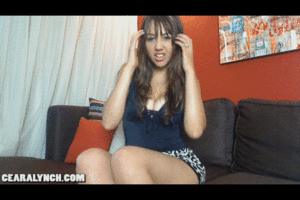 I can't believe it. Our anniversary is in a few days. It's already been a year! Boy does time fly. So what are you going to get me? Jewelry? That's nice. But can I tell you what I *really* want? I want to get fucked. Like, seriously fucked. I know what you think we do is great and all, but I'm just no into it. I don't want you to embarrass yourself by trying to do something you're just not built for, so I think you should find me someone else. Don't be sad, sweetie. Its not your fault your cock is so small. I certainly don't blame you for it. But I can't deny my needs any longer. I need some proper railing. So what to you say? Happy anniversary.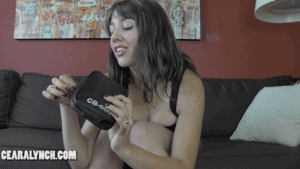 Jay is utterly helpless when it comes to my good looks and charm. All it takes is a little coaxing and he'll do whatever I want, even it means locking his cock away for as long as I please. I just love teasing his little prick as its trapped in that cage. He'll do anything to be a good boy for me.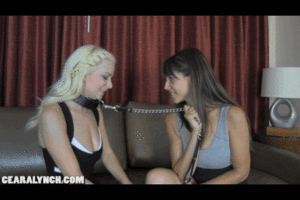 My girlfriend Danielle is such a prude. All she ever wants to do is go out to normal clubs where people just drink and dance. Boring! I'm here to expand her mind and show her the kind of parties I goto -- the fetish kind! Danielle is very hesitant, she thinks it's just going to be a bunch of weirdos. I decide to warm her up by showing her how much fun it can be. I put a leash around her neck and tell her Im going to walk her in there on all fours like my little pet. Then I make her worship my boots with her tongue, explaining that this is going to be her job at the party. My own little slutty boot shiner. Its not long before Danielle is so turned on she can't wait to go. Do I know how to convert them or what?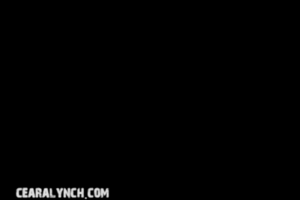 "You are my student who wears short skirts and knows that I sneak a peak every once and a while. You catch me looking and begin to tease me further. You cross and uncross your legs, etc... Finally, you tell me that unless I worship your ass and feet you will expose me, and that I must give you an A. In return, I can grovel at your feet (and ass) and jack off.
Loser feedback:
"Fucking fantastic. The first minute has to be the hottest ever on film."
"I have just purchased your Teacher Caught clip, I have bought countless clips of you over the past 2 years even the same clips twice before, but this may just be my favourite. I think you have given me a foot fetish, I wouldn't even consider myself a foot person but I am a little smitten with your cute little toes lol I just wanted to say how much I adore your clips, your voice, your body, your lips lol you are incredibly gorgeous & you're ingenious fetish mind, I'll carry on dreaming how I can be of use J I give you an A for your clips & Amen to my new favourite fetish GODess."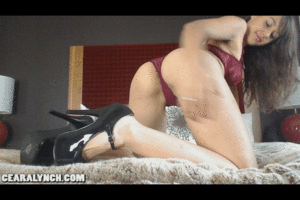 New Sleeping Arrangements
Honey, we need to talk about our little arrangement. I think it's so wonderful that you married me with enough awareness to know you could never satisfy me in bed. Having you as my cuckold is the best thing that could happen for us. But my new boyfriend just doesn't "get" it. I told him we were separated just to keep it simple, but he found out the other day we still sleep in the same bed and he thinks that's weird. From now on it'll be best if you just sleep on the couch. Also, you'll have to leave the room whenever Im changing because he doesn't want you to see me naked. I think that's only fair. My naked body really isn't for you anyway. He's the one who gets to enjoy it, so why should he have to share even in the smallest way? I know this might be a little rough at first, but we did just buy that new couch, I'm sure its very comfy.  
Pages